Alice in Wonderland was the theme for Taylor's 5th Birthday Party. I had a great time choosing decorations for the party, but it required a little more research and planning then her princess themes in past years.
There are so many fabulous ways to decorate for an Alice in Wonderland party even if I couldn't pick up "Alice in Wonderland" themed decorations at the local party supply store.
I made Taylor's dress months in advance, and it served as my inspiration for party décor. I had found this fabulous Michael Miller tea pot print at Fabric.com
The moment I saw this fabric I knew it would make a perfect Alice in Wonderland dress!

With the dress serving as inspiration I started searching for tea party decorations online. We had already chosen the local children's theatre as a venue and I wanted to turn their party room into a wonderland!
I found cake plates shaped like teapots and tons of matching accessories at BirthdayinaBox.com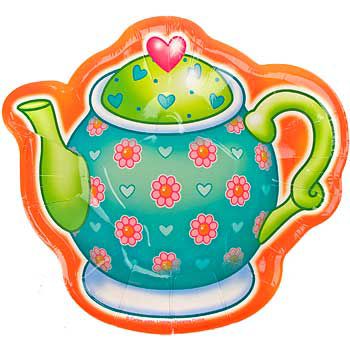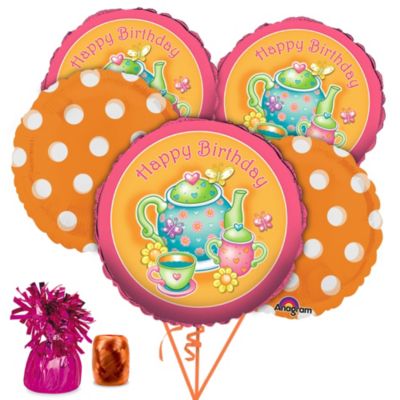 These cute teapots served as centerpieces as well as favor boxes (double score!)


I had a great time making as many decorations as possible. I bought white and red roses from my local craft store and then added splashes of red paint to the white roses and placed several flower arrangements in the party room.


I made these "Mad Hatter"
style party hats for all the kids to wear instead of traditional cone shaped hats.


I had envisioned lots of tiered serving platters full of tea party snacks. I wanted the tiered platters to match the theme, but didn't want to spend a small fortune for something I would only use once. I found a tutorial
showing me how to make my own using plastic (heavy reusable) plates of various sizes and clear glass candlesticks (I found these at Hobby Lobby for $1 each). I loved the idea and made 4 tiered serving dishes that perfectly matched the colors and theme for less than $20 total. I've used the idea now for almost every holiday or party I throw.


Cakes by Kim
made this beautiful Alice in Wonderland cake! I knew Kim had amazing talent and all I requested was 3 tiers with an Alice in Wonderland theme using the colors from Taylor's dress. I was blown away when she delivered this masterpiece to the theatre! The details were incredible!


The kids had a blast at their tea party in the theatre's party room! After enjoying Wonderland they took a tour of the children's theatre and then headed to the costume department. Each child was put into a costume and taken to the stage where they practiced for their own performance of Alice in Wonderland. After the kids had learned their roles the parents were all invited into the theatre to watch the kids put on their own show. One of the theatre instructors served as a narrator for the story as the kids acted out their parts. The kids did a great job and had a great time!
Post Footer automatically generated by Add Post Footer Plugin for wordpress.